You should never underestimate the power of cosplay in groups. I've been a part of a charity group for a while, but for this Comic Con I planned to do something a little different. Livewire was my favorite villain in Season 1 of Supergirl. Since her outfit didn't look too hard to imitate, I decided to cosplay her. Then a few months ago, one of my Facebook friends decided to put together a DC Villains/Arkham group for comic con. I decided to volunteer Livewire.
Friday night I did some reading up on Livewire's history. She was a character originally created for the Superman animated series and in the comics she teamed up with Poison Ivy and Harley Quinn. So that boiled down my Saturday agenda to three points: pick on any Kryptonians I run into, fight the Flash, and hang out with DC's more well-known female villains.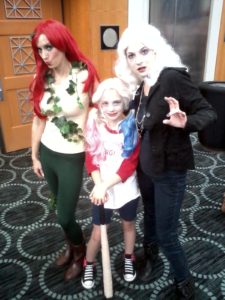 It took about half an hour for everyone to arrive, but that was long enough for me to get my picture taken at the booth, bump into some friends at the Star Wars photo meetup, and start getting into character. I pointed out to our Batman, Travis, that Livewire wasn't even at Arkham Asylum but she was still the first in the group to show up. But it was definitely worth the wait. In the end, we had a group that included Captain Boomerang, origins Joker, Poison Ivy, the Riddler, Black Mask, and Batman.
There was a whole group of DC Supervillains walking the con floor on Saturday. Not all of them were well known, but the selection of characters and quality of costumes was impressive.
We crashed the booths of the local charity groups Kids Heroes, Heroic, and Legacy.
And of course we got stopped by a lot of other DC heroes and villains and even just fans. We were THE group to get a photo with.
The group probably wasn't together for more than an hour or so. It was kind of a different experience, being a DC Villain. For one thing, it wasn't half as fun without the group around me. I found myself geeking out over characters I normally don't pay much attention to, notably Joker and Harley Quinn and a lot of DC characters I wouldn't otherwise give the time of day to!
Having two episodes in a TV series you've seen once isn't a lot to go on. Furthermore, Livewire/Leslie Willis is a crude shock jockey who wants revenge for losing her job and becomes homicidal–not exactly traits I relate to. I tried to spice up my experience by saying "zap zap" to people around me. But it comes down to simply I don't know the character as well as, say, Voldemort or Darth Vader-I'm not as emotionally invested. Being into Supergirl isn't the same as being in the whole DC fandom, but that's okay-fandom is a spectrum of different experiences. What made the experience fun was being a villain and having a costume that required fun makeup and a wig (seriously, though: brown lipstick. Beat that).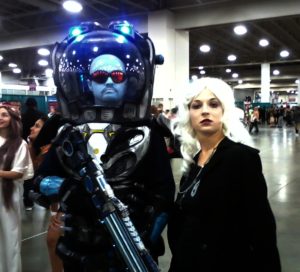 When you're cosplaying and trying to be in character, that is going to affect who you interact with at a con and how you interact with other cosplayers. When you roleplay on the spot, either you already have something in mind or you make up stuff as you go. My friends would tell you I'm a sucker for roleplay; and that's true regardless of whether I'm cosplaying, watching videos on https://www.sex-hd.xxx/ or having fun in the bedroom myself. Roleplaying is always fun in my opinion.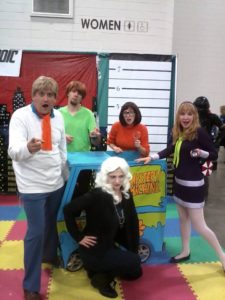 Saturday was my first time out in public as Livewire, and I was trying to figure out the character as I went along. It felt off interacting with Marvel or Disney or Harry Potter characters. There wasn't really a lot of time to improvise a crossover, especially when a lot of people haven't seen the show. So not really a lot of interacting with people on Saturday, sadly.
Naturally if you're a DC villain, you want to fight DC heroes.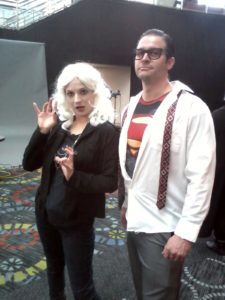 Being Livewire, I took opportunities to get photos with and fight the Flash and Supergirl at every opportunity.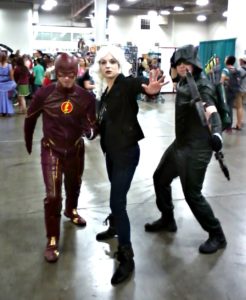 You also try to think of other characters that go well–or don't go so well-with your superpower. I did try to do lightning attacks on Anakin Skywalker and Luke Skywalker, but both of them were armed at the time so it didn't exactly work.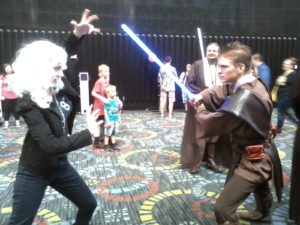 Not to mention it was Saturday and I was tired of straight-up everything. Most of the time it was just going around the con doing business as usual. But I kept looking for opportunities…and I was rewarded.
Don't get me wrong: being a villain was a great opportunity to band together with other baddies. One thing that did pay off for me was running into my friend Matt Janovsky in his Deathstroke armor. We're quite the team!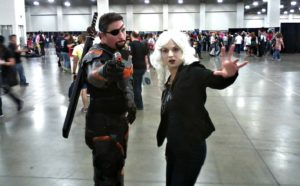 I had a good experience being Livewire at Comic Con. I probably won't wear it to a convention again, but I'm hoping there'll be more occasions where the cosplay is a better fit. And I probably wouldn't say no to a photoshoot.
Read More: The Jedi in Jeans at Salt Lake Comic Con