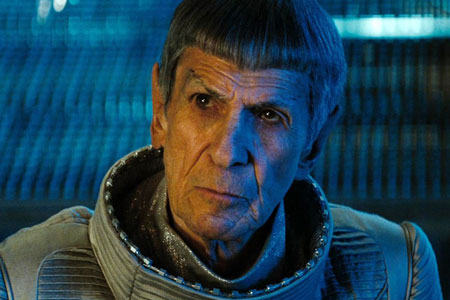 Leonard Nimoy was an icon. I can't think of any other way to describe him. There are a few faces that are instantly recognizable as the characters they play in a movie or a TV series. Leonard Nimoy was Spock, and Spock was a character that meant so much yo so many. I was saddened to hear that he had passed away on Friday, but I was also grateful for everything he left behind. His body of work, particularly in the Star Trek universe, will remain a source of inspiration for countless geek generations to come.
I have been thinking of the last day or so about what made Spock so important, what made him stand out. I think one thing that made him stand out was that Star Trek was the first really successful Science Fiction television series. There was no such thing as a "fandom" before Star Trek. It was a series that changed the whole landscape of Science Fiction and it laid a foundation for every franchise that followed. It has endured through all this time. The original series wasn't appreciated enough as it originally aired, being cancelled after only 3 seasons, but with time it caught on and the fan base, which was extremely loyal, grew. Spock was a big part of that.
Was he a bigger part of the success than Kirk? For me, the answer is yes. Spock was the original outsider looking in. Each Star Trek series has had this type of character. For TNG it was Data, for DS9 it was Odo, and for Voyager it was the Doctor. These were characters who showed us what it meant to be human from the outside looking in, and helped us understand our selves better. More than that, as geeks we all felt like outsiders at some point in our lives. These characters gave us hope that we could belong. Spock was basically the high school nerd or geek, and somehow he was hanging out with the captain of the football team.
Spock was so different from the rest of the crew, relying on his logic, instead of his emotions, which helped us understand our own emotions. Spock, of course, would not have been Spock if not for the masterful way that Nimoy played the character. I don't think it is easy to appreciate how hard it is to play a character like Spock, who doesn't feel or emote, and to keep it up as well as Nimoy did. He embodied Spock and I don't think anyone could play the character as well as he did over 49 years in the role. He became one of those actors that people had a hard time separating from his role. For many fans, there was no difference in their minds between Leonard Nimoy and Spock. Rarely, does an actor embody a role like that.
One of the great things about Nimoy was that he embraced that aspect of playing Spock. He embraced the fans and was always appreciative of their support. Star Trek fans are known to be a bit obsessive, and it would be easy, especially as he got older, to pull away and not want to speak with the fans. Nimoy didn't do this. As he got older, his health began to get worse, but he still found ways to connect to the fans. In September of 2014, health prevented Mr. Nimoy from physically visiting fans in Salt Lake City, Utah who were attending Salt Lake Comic Con. That didn't stop him, however, as he visited with those fans via Skype:
Leonard Nimoy's passing on February 27, 2015 brought a great amount of sadness to the geek world. It also brought a great amount of gratitude and appreciation. All of a sudden dress colors didn't matter anymore on the internet. Remembering a treasured performer became more important. I think most geeks out there have some connection to  Leonard Nimoy. He was one of the greats, and we will be able to look at the huge amount of work he did, both on the screen and off, and appreciate this man for years and years to come. The magnitude of his career will never be fully appreciated or understood. I can say, without question, I would not be here today writing this post or keeping this blog. I know my blog is really small and insignificant, but I think there are a lot of geeks and geeky franchises that can make the same claim. Leonard Nimoy influenced so much in the world of geek, that it would be hard to find any facet that wasn't touched or affected by this man. He was an icon.
To close out this post, I can think of only one way. I wanted to share the funeral scene for Spock from Star Trek: The Wrath of Khan. That and to say, Live Long and Prosper.