(All the photos in this post are mine)
One more Star Wars post wouldn't hurt before the hype dies down too much.  To celebrate the premiere of The Force Awakens back in December (and also to celebrate my birthday, which was the same week) I threw a little Star Wars party.  I didn't have more than five people show up, but all who came had a good time. To get in the Star Wars spirit I prepared themed snacks and games.  I thought you might like to read about them, in case you want some Star Wars party ideas of your own and also to review my experience making these treats and games.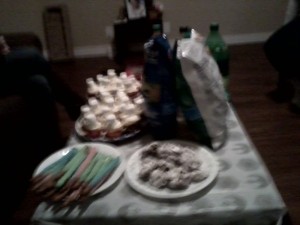 Food
The edibles were all finger-foods.  On the side I had soda pop and chips, but the main features of the spread were Star Wars-themed snacks.  I had gone to my grandparents' the previous weekend and grandma sent me home with a box of cake box cookie mix.  Those became "asteroid cookies."
The main dish was TIE-fighter tuna sandwiches.  They were based on an idea I found on StarWars.com for TIE-fighter grilled cheese sandwiches for a Rebels party.  Instead of cheese, however, I wanted something more filling.  I was going to make chicken salad but making the chicken salad myself would have been too time-consuming and buying it pre-made from the store would have cost an arm and a leg (pun intended maybe).  So I went with tuna because it was cheap.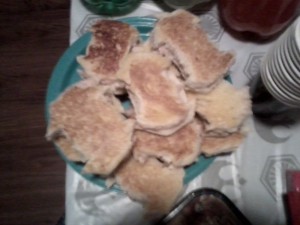 For TIE-fighter Tuna sandwiches:
2 loaves of bread
1 can of tuna
A dollop of mayonnaise, to taste
Butter
Mix tuna and mayo in a bowl of to one side.  With kitchen shears, cut crusts off the bread and then cut slices into shapes resembling TIE fighters.  Spread tuna/mayo mixture between bread slices.  Spread butter on outsides of TIE fighters and grill on the stove until golden brown.
I used cottage bread from the nearest grocery store, but cutting them up was labor-intensive. My roommates ended up cooking the TIE fighters while I was getting dressed (they were coming to the party).  They turned out to be the best tuna sandwiches I have ever eaten, I kid you not.
Lightsaber Pretzels
I saw this idea on Pinterest but I sort of slapped myself when I noticed it because it should have been obvious.
1 bag of pretzel rods
1 package of melting candy
Food coloring
Melt candy in a bowl, using one bowl separate for each color of lightsaber.  Stir in food coloring.  With a fork or spatula, cover the pretzel rod with the colored candy melt enough so that it covers the pretzel rod.  The coating will be thick.  Place the lightsaber pretzels in a cold environment, i.e. the fridge, to harden.
I used almond bark candy coating and Snyder's of Hanover pretzel rods, and it only took me one bag. I made green, blue, and red lightsabers and I chilled them outside my apartment on the balcony (benefits of a cold climate).  It only took around ten minutes for the lightsabers to harden naturally, and I kept them in a bag for easy storage.   These were the most popular treat at my party.
And finally, the centerpiece: STORMTROOPER CUPCAKES!  
I found this idea on Pinterest and it was too darling not to pass up.
Cake mix
Cupcake holders
Frosting
Jumbo puffed marshmallows
Food marker
Bake cupcakes in the oven.  While waiting, illustrate a stormtrooper face onto marshmallows with food marker. When cupcakes have cooled, cover with frosting and then stick a marshmallow onto each.
I used a vanilla cake flavoring and frosting. You should be able to get a food marker from a craft store but be warned, they are messy and will get all over your children! Seriously, these cupcake troopers are so adorable. When I went back to Texas for the holidays I made these again for a New Year's party that my family did with some friends of ours and they all got eaten.
Party Games
My friends and I played three games at my Star Wars party.  The first game was trivia.  The second was A Certain Point of Taboo, based on a game of the same title played by the hosts of Far Far Away Radio.  I do not recommend playing either of these games with small groups of people where only one or two are geeks.  
The game that went over the best with my friends was Star Wars Things.  It is based on The Game of Things, which is owned by one of my roommates.  For those of you who are not familiar with The Game of Things, the concept is similar to Apples to Apples.  A judge draws a card suggesting a prompt of certain kinds of "things."  Each of the other players writes down a "thing" in response to the prompt, and the judge picks the most interesting or creative "thing." Star Wars Things, of course, has prompt cards inspired by the Star Wars universe (I stick to the saga films).  For example:
Things that you should never say to Darth Vader
Things that explain why TK-421 was not at his post
Things that Leia is mad at Han Solo for
Things that Lando Calrissian likes to wear
Things you should never do in a spaceship
Things you should not fix the broken hyperdrive with
Things that R2-D2 remembers
Things that the Emperor decorates his palace with
The point of the game is to encourage the players to come up with clever and interesting responses.  When I play I usually don't keep score but it could be done.  I have also played this game with a group of about ten young adults and we had a smashing time.
Anyway, if you're looking for Star Wars party tips, the above list should give you a good place to start. The little party I threw certainly made the premiere of The Force Awakens more memorable for me and my friends.