The revelation that Missy was actually the Mistress, a female regeneration of the Master was a big shock to most people. I had heard some rumblings on the internet about it being a possibility, but I thought those folks were crazy, and then I ignored them. I thought it was more likely that Missy was a regeneration of River or something along those lines, so I was obviously surprised when I found out the truth. I was surprised, and then I was really turned off. The whole thing didn't sit well with me, and I had a hard time taking it seriously. I know this whole post is somewhat late to the party, but I really wasn't sure what I wanted to say about this whole thing, or if I wanted to say anything and just let it all go. Except now, Missy is coming back for series 9, so I wanted to weigh in with my thoughts.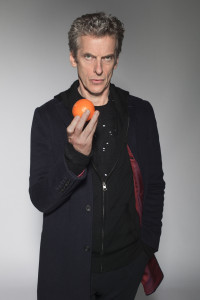 I had a lot of high hopes for series 8, and maybe they were too high. I really liked the look of Peter Capaldi as the Doctor and I was excited to see where he was going to take the character. I wasn't totally disappointed with it. Yes, there were some shaky moments in the series, especially toward the beginning, and there were times where his Doctor simply made me feel uncomfortable. By the end of the series, however, I was really enjoying 12.
I was also excited about Clara coming back. Here, I was totally and utterly disappointed. From a Clara standpoint, I wish series 8 had never happened, or at least that Danny had never happened. In any case, he did and it did, so I have to accept that and move on. I am hoping Clara's character gets the full season she deserves with series 9, and I can move on from series 8. Although, truth be told, my inability to move on from series 8 as far as Clara is concerned is really my issue that i need to get over.
Series 8 had its moments of greatness and its moments of mediocrity, like every series of Doctor Who, so that's fine. Overall, the series was perfectly alright. That is, if you don't count the series finale. I didn't feel like it was groundbreaking or Earth shattering or anything like that. I'll tell what I thought when I saw the last two episodes:
That's right. I felt like the show jumped the shark. I really felt like changing the Master's gender was simply a gimmick and nothing more. It was Moffat basically doing it because he can, and that's it. I don't have a problem with strong female characters, whether antagonists or protagonists. That doesn't bother me at all, but i don't feel like that is what Moffat was doing here. He wasn't introducing a strong, original female character. He was just reintroducing a strong male character as a female, which is totally different. I know the whole thing is supposed to be so different and so groundbreaking, and only Moffat would dare to do it. That's simply not true. Every time the Doctor has regenerated since the reboot, there have been a ton of people wanting him to regenerate into a woman. Of course, there have been a lot of people who have been against the idea. The point is, the idea of a Time Lord regenerating not a Time Lady is not new, and it's not Moffat's.
What it really comes down to, what it really felt like to me was that Moffat was saying that he couldn't come up with anything new and shocking, so he turned to a gimmick instead. And it was in typical Moffat fashion. Oh, everyone wants the Doctor to regenerate into a woman, well, I'm not going to give them that, because they want it. Instead, I'm going to give them almost that and just randomly throw it in for no reason.
To me, turning to gimmicks says that the fancies isn't intelligent enough to realize that's what's happened, that they won't get that it was just a gimmick, and they don't need anything new or smart. They'll be just fine with whatever. It's almost like giving a fan base the finger, and then laughing about it. Of course, he can be laughing about it because it all went over so well with the fans. A lot of people embraced Missy, enough that they just happen to be bringing her back for series 9. Yay! (he says with sarcasm).
The really great news with all of this is that Moffat is on board for all of series 9, so we get to see what gimmick he has up his sleeve for the finale at the end of 9. Maybe it is all just a big set up for the big gimmick, having the Doctor regenerate into a Time Lady. That has to be the direction all of it is going, right? Can it be too far away at this point? I don't think so.
Let's hope that's not the case, at least not doing just as a trick to get people to watch. I think when you get to the point that all you have left is easy little gimmicks like this, maybe it's time to move on, and let someone else step in and take over. Just a thought to throw out there.
What were your thoughts about Missy being the Master? Did you think it was bold new move? Or did you feel like I did? Let us know in the comments.