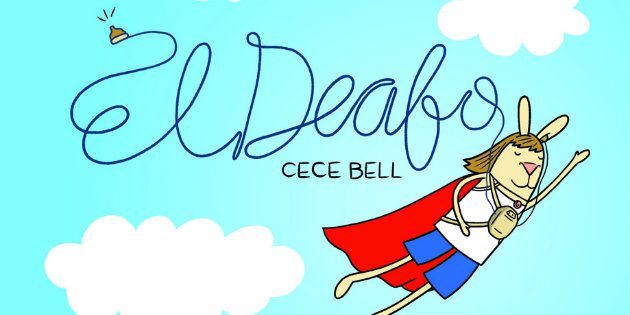 I had a Facebook conversation with a friend a while back that went something like this:
Friend: The book El Deafo. I'm assuming you've read?
Me: (after doing a Google search for the book)- No. I've never heard of it before. It looks interesting, I'll have to check it out.
Immediately after, I went to our local library's website and requested a copy to be placed on hold. When it became available my oldest daughter and I went to the library to pick it up.  She was curious about what the book was and what it was about.
Basically, the book is an autobiographical look at growing up deaf in a hearing world. The author, Cece Bell tells this story in a graphic novel format with the characters being represented as rabbits. It's cute, but it is also very real as well. She doesn't hold any punches as she talks about what it was like to lose her hearing, how lonely she felt around the hearing kids in her neighborhood and her school, and how hard it was sometimes even with her family. She tackles the challenges every deaf child faces as they adapt to living in a hearing world. In her story, she faces those challenges in her mind as a superhero named El Deafo. The story follows Cece from toddler age up through elementary school. She goes through different best friends and varying degrees of comfort with her hearing loss and the giant hearing aid she has to wear at school. In the end, Cece finds her self-confidence and her place in her little world, and everyone is happy.
The real magic of the book is this: As we were sitting in the parking lot of the library, I began reading a little bit of the book to Eliza. I thought maybe read a couple of pages, see if she was interested, and then maybe I could read more to her later. She hung on every word as I read it. 30 minutes later, and almost a hundred pages in, I decided we needed to go, or mom was going to be worried.
Here's the thing about Eliza. She can read just fine. She reads words all the time and knows what they mean. What she doesn't do is read for fun. We have tried to get her to read all sorts of books, but nothing really holds her interest. That was before we found this book. When we got home from the library, she asked if she could see the book. I thought it was just so she could show mom, but instead, she took it into our office and sat in my big black chair and started reading it again from the beginning. Then she brought it with her to bed. And then to church the next day (don't judge me). She would not put the book down. And she was really reading it, too. We could hear start laughing at certain points, and she would explain it was something in the book, like when the teacher would leave the microphone on when she left the classroom, and Cece could hear her going to the bathroom through her hearing aids. That is comedy gold to a 7-year-old.
Eliza loved this book so much, that when she finished reading it, she just started reading it again. It is now her favorite book, she has informed us. I think she identifies with Cece, since she is also deaf. She knows what it is like to try to understand people and how people sometimes treat her differently because she is deaf. She has had moments where she realizes she is n't just like the hearing kids, and sometimes she is embarrassed by it. I think she also understood, that like Cece, she is pretty amazing (not special. If you read the book, you'll know why). I think the magic of this book was that Eliza finally found a story she identifies with.
My favorite part of this book came at the very end, as the author explains that there are different kinds of deaf, and that's ok. She points out that the only kind of deaf that she is an expert in is her own. I love that. So many people try to tall us as parents what we need to do for our deaf kids, but each kid is different. The important thing is to find out what works for them. At the same time, even though each person has their own journey, the experience are often similar. And it's not just deaf kids or kids who are hard of hearing. Growing up is hard for everyone. Every kid has a tough time or two along the way.
That was my favorite part. That and the fact that it got my daughter to pick up a book and read it from cover to cover. Twice. That was awesome. Maybe this Cece Bell does have super powers if she can accomplish that. In fact, I went to the library today and got another of Bell's books, and Eliza grabbed it right away and sat and read the whole thing (it was considerably smaller, but still). That was an amazing feat.
Please go to your library or your favorite book store and find this book. It is an easy read, but a great read. It will help kids understand that they are wonderful because of their differences, not in spite of them. I may have to purchase this book because I don't think Eliza will let me bring it back to the library. Forget Wonder Woman, El Deafo is Eliza's favorite superhero now.