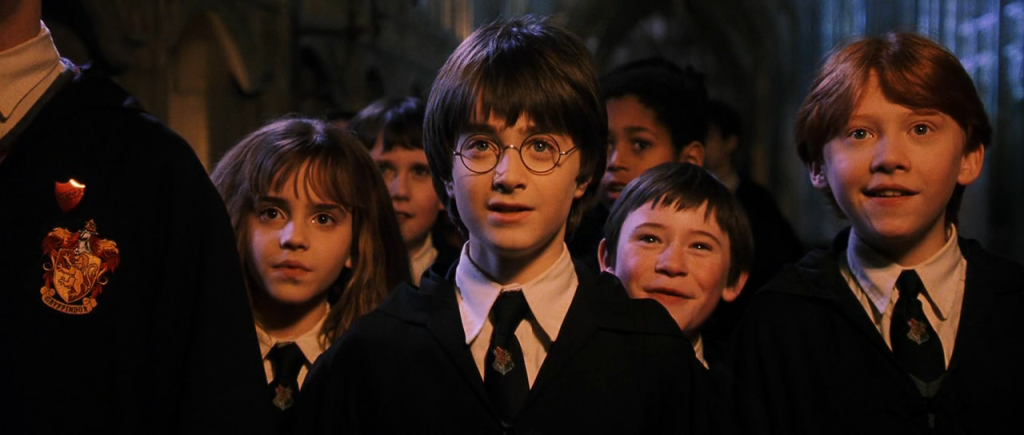 It's summer time, which means the kids will not be going to bed as early as they normally would, which means it will be easier to get in some good Sunday Night Flicks. This last week we decided to start the eight film journey covering the adventures of Harry Potter and his friends. I have been wanting to share these stories with my kids for a long time, and my oldest finally showed a little bit of interest after playing the Harry Potter Lego games. We started where everyone should start such a journey; at the beginning.
It was pretty interesting to go back to the beginning of this saga. It had been quite a while since I had watched either of the first two Harry Potter films, and it was kind of strange to see Harry, Ron, and Hermione so young, and know what was lying ahead for them. The three of them seem wide-eyed through out this movie, like they are just as amazed and astonished by this wizarding as we were. In this film, and the next installment, Chris Columbus begins to bring to life the hidden magical world that David Yates would later perfect starting with Order of the Phoenix.
The Sorcerer's Stone for me, is fun because we see Harry Potter come to life for the first time. These characters I had always imagined in my head were there, on the screen. I wasn't sold on Daniel Radcliffe as Harry at first, but he grew into the role, and it would be hard to imagine anyone else in the role. Rupert Grint, on the other hand, was brilliant from the start, as was Emma Watson. I remember being somewhat disappointed with this film when I saw it for the first time, which was at home on DVD since it came out while I was spending two years in Germany. It is still probably my least favorite of all the films.
Watching it for the first time with my little ones changed my perspective a little bit. I got to experience the magic again but through my kids' eyes. The only thing I could compare it with is when we took our kids to Disneyland for the first time. I had always loved Disneyland, but seeing them experience for the first time brought the magic to life in a whole new way. That's kind of how this felt. My son was so excited about the movie, that he wanted us to immediately put in the second film. We are making him wait until at least next week.
Overall, this film was ok. As much as I enjoyed watching the kids enjoy this movie, I couldn't get past how much I disliked this compared to the other movies. The child actors aren't great right away, and their chemistry is good, but still awkward, not like it is by the end of the films. That makes sense, since by the eighth movie they had all grown up together. I guess for me it is like watching the first season of Seinfeld. You can tell it has a lot of potential, but it's not there yet. However, the world the film is set in is fantastic and rich in detail.
The fun factor is what really counts here. The kids love this Harry Potter movie, and in a lot of ways, it feels like a kids' movie, kind of like how the first book feels more like a children's book. I had no problem with all of my kids sitting down to watch this movie, but I am not sure how I feel about some of the younger ones watching the films as they go on. They may have to head off to bed before we watch Order of the Phoenix.
I guess, in the end, watching this with my kids, I had a lot of mixed feelings. In some ways, it was still hard to get through this whole movie and to look past the acting in some cases, knowing it would get better. In other ways, it was a lot of fun to experience Harry's first trip to Diagon Alley with my little ones. It was like they were there, in Diagon Alley, with Harry and Hagrid. Maybe that experience made me appreciate this film on a new level.
What about you? What did you think about this first installment of the Harry Potter films? Where does this one rank compared to the others? Let me know in the comments.