Yes, I can make this list work. I can come up with 17 reasons that the year 2017 is going to be a good one that are all geek-related. Can you? Is there anything on this list you didn't think of? Anything I didn't have room for?
Star Wars 40th Anniversary
ALL THE CELEBRATING!!!!!!!!! Words cannot express how much I love Star Wars and being a part of the Star Wars fandom. I am so looking forward to whatever shenanigans this anniversary celebration brings!
I am going to be doing a 4-part series called "40 Things I love about Star Wars" for the first part of this year. Stay tuned for that. Some of those list items might get their own posts in turn. Basically stay tuned for lots of Star Wars. Maybe later this year I'll write a post about celebrating the 30th anniversary ten years ago with my family and about my mom going to see Star Wars in theaters back in the day.
2. Star Wars Episode VIII
And just in time for the anniversary year, the eighth installment of the saga. Oh, darn, I can't WAIT to see what happens to Finn, Rey, Luke, and Leia next! (Plus the fact that Carrie Fisher just passed away makes Episode VIII one of her last projects so there's no need to say goodbye yet).
3. Salt Lake Comic Con FanX

Holding FanX on Saint Patrick's Day weekend in March means I might be sporting something green on Friday ;).
4. The conclusion of the Mark of the Thief trilogy
Last year I discovered the Mark of the Thief series by Jennifer A. Nielsen. I highly recommend her stuff period but these books are awesome. Rise of the Wolf left us on an intense cliffhanger. Luckily there is now less than a month to wait to see how Nicolas Calva gets out of this one…
5.  Despicable Me 3
The trailer is cute. And plus "Grucy" is a great ship name if I ever heard one.
6. Thor: Ragnarok
Do you ever wonder if the ancient Vikings would be surprised that we're so excited for the end of the world? (But in all seriousness, Thor: Ragnarok means two more films left to Infinity War)
7. The conclusion of the Five Kingdoms series

Brandon Mull's latest series has been an epic ride from the start. I honestly care more about this than about Dragonwatch.
8. Guardians of the Galaxy Vol. 2
They're baaaaaaack! Mayhem, mischief, and baby Groot, and, if the rumors are to be believed, we'll actually discover the identity of Star-Lord's father.
9. Spider-Man????
The MCU film I care the least about seeing, but the trailer for Spider-Man: Homecoming was actually funny. Peter Parker seems cute, and so do his friends. At the very least, I might find out what Tony Stark has been up to since Civil War. The rest of you can have your Spider-man.
10. The live-action
Beauty and the Beast
I'm kind of holding my breath for this one, but Cinderella and Maleficent both exceeded my expectations and who's to say what this one will do.
Did I mention Ewan McGregor?
11. Salt Lake Comic Con
Mark Hamill said he was coming back. What other epicness awaits???
12. New Cosplays
These are just hints at a few of the projects I'm hoping to get around to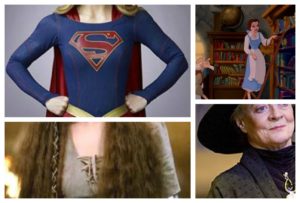 13. Anastasia the Musical
Let's be real here, I won't be going to New York City anytime soon to see this. But if this goes anything like Hamilton, the original cast recording will be on Spotify and everyone and their brother will listen to it. So I won't miss out completely. Neither will you.
This new stage musical will feature songs from the 1997 animated film but will have a story based on the actual history of the Russian Revolution. I am excited to see what the new musical will bring, and I hope fans of the original movie will enjoy a revival.
14. Wonder Woman
The truth of the matter is, the more I hear about Wonder Woman, the more I like her. Yes, I am a woman and I enjoy stories driven by strong female characters. No, it's not Marvel, and Supergirl takes place in a different universe, but the trailers for Wonder Woman look promising. It's set in World War I, a time period that doesn't get as much attention as World War II, and here we have an Amazon coming to visit a society that represses women…and meets Etta Candy.
15. Lego Batman
It's the Lego Movie's Batman. So it's Batman, so it's going to be a little darker than The Lego Movie because, let's face it, he only builds in black or dark gray. But the trailers look hilarious. Don't tell me I won't enjoy this movie because I haven't seen any other Batman movies (well I did see a couple of the Tim Burton ones once…a long time ago).
16. More cosplay adventures!
More Scarlet Witch and Princess Leia? You bet. More Mira Nova? Absolutely? Fun and games with the new characters I'm charading as? Of course! More Kids Heroes shenanigans? I'm all for it. More movie premieres and Comic Con and baseball games? That's what I'm signing up for!
17. More Geeky things to blog about
And with all of these Geeky adventures, with Star Wars and Marvel and Comic Con and cosplay and whatnot, I will have more to write about, dear readers, more reviews to give and stories to tell, more people to introduce you to, and more to share. There are good things to come in 2017. I am cautiously optimistic but optimistic nonetheless.