While you're digesting your turkey and pie and thinking about the things you are grateful for, feel welcome to browse this list and the attached photos, and if you want to give feedback you can share why you are grateful for Salt Lake Comic Con. Disclaimer: yes, next week for my personal blog I'm going to be posting a wish list for guests to have at future SLCC events, so if you think I'm buttering up the Salt Lake con organizers I won't blame you for thinking that. And bear in mind, none of these are in any particular order…except towards the end.
But in all seriousness, as I am counting my blessings this Thanksgiving holiday I am sincerely grateful for Salt Lake Comic Con, for the hard work of the event organizers and volunteers and other cosplayers and for my friends. Comic Con has given me so many opportunities that I wouldn't have found otherwise.
The chance to interact with Jake Dietz in person
I do make it a point to know who I'm working for, including people I co-write random blogs with on the internet. But all three times I have seen Jake Dietz in person have been at Salt Lake conventions. And it's always good to see him.
2. A place to interact with everyone else I meet on the internet
This includes, of course, you, my dear readers. The online community in Salt Lake Comic Con is huge, and we don't get to see each other in person very much. But at Comic Con and FanX it's nice to get together and put faces to the names and personalities.
Catch up with James A. Owen
Author of the Imaginarium Geographica books. Creator of the Starchild comics. Superman enthusiast. Author, motivational speaker (kind of like those football motivational speaker types you hear about), and entrepreneur. James A. Owen is many things but he is also a friend of my dad and his family, seeing how my grandpa was James's eighth-grade teacher. He comes up from Arizona for Comic Con in September, and I've always made it a point to say hi to him at some time and swing by his booth. And he's always glad to see me. At this most recent con, James was also on the 'Behind the Glasses' panel with Jake.
Meet up with and hang out with old friends
It's not just the geeks who show up for Comic Con–some of those local geeks are my friends. I've spent a couple of cons hanging out with my old roommate and fellow nerd Chelsea, for instance.
This last comic con I was privileged to run into two of my friends from the BYU medieval club.
Making new friends
Whether waiting in lines for photo ops or panels, or running into random cosplayers, there's always a chance to socialize and make new friends. At FanX 2015 I met Sierra, Kaesi, and Kelsey at a photo meet-up dressed as Black Widow, Loki, and Tony Stark respectively. I was Agent Carter that night and we immediately began role-playing. Then by almost-miraculous happenstance we ran into each other again in September and hung out for a whole afternoon. I believe that some things are meant to happen, even at Comic Con.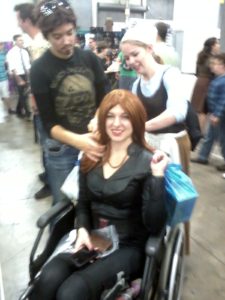 Being around everyone else in character
Part of the art of cosplay is being in character when you're showing off your costume. At a convention, you are around characters from every conceivable franchise. You can create new adventures with the friends from your own world…or you can play around with characters from different stories. If it's the one chance you have in a lifetime to take that picture you've always dreamed about with that favorite character of yours, take it. Everything goes.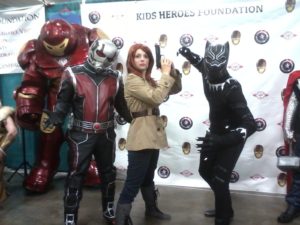 I got in touch with Kids Heroes
Salt Lake Comic Con showcases local charity organizations and costuming groups, so naturally Con is where I heard about the Kids Heroes Foundation. I didn't get to really meet them until the FanX press conference last November (wow, that was a year ago this week!). But needless to say, I've made friends in Kids Heroes that have made a huge impact on my life.
Excellent Panel Programming
I have always been a fan of the smaller breakout panels. They have every topic you could imagine, subjects like creative writing to discussions of favorite books and movies to author spotlights to cosplay discussions. Panels are a great place for people to share ideas and be more informed about their passions.
The local Star Wars clubs make my Star Wars dreams come true
There is no fictional world I would rather go to than that one galaxy far far away. The 501st and Rebel Legion bring it down to Earth, so to speak. They nearly always have great booths and displays and bring out everyone's favorite characters to get photos with. The 501st even has trading cards. I met several of the guys in the Alpine Garrison at FanX 2015 and we've met up again at cons since them. In August I even got to troop with them at a baseball game, which was AMAZING.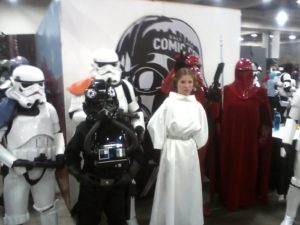 And let's not forget the Wasatch Saber Guild, that puts on incredible fighting demonstrations.
I got to be there when the cast of Captain America showed up and put us on the map
I still think the September 2015 comic con was my favorite. There is nothing that can beat the feeling we had that weekend from four of the lead stars from the Captain America films visit Salt Lake and tease us about Civil War. The fans on the internet were enthralled by the footage from OUR CON. And among other things, we learned that Chris Evans is a teddy bear, Anthony Mackie is a chocolate cinnamon roll, Sebastian Stan is a precious kitten, and Hayley Atwell is as big of a derp as the guys. It's being there for the moments that make history that make it memorable.
Forty minutes of heaven!!!!!
This five-minute highlight reel about sums up Sebastian Stan's Friday panel from Comic Con 2015. Seriously, I need him to come back like I need air.
I got to meet Princess Leia a.k.a my Fairy Godmother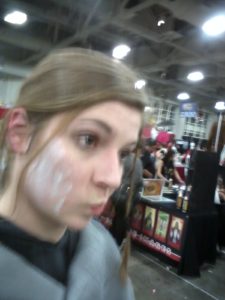 Two hours of standing in line to get Carrie Fisher's autograph convinced me to get a camp stool for the next comic con. But the wait was worth it. I have it framed on my wall and if you look closely enough you can still see the glitter.