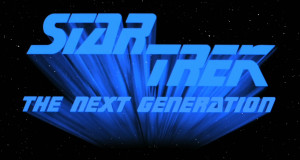 I am back with another review of a classic Star Trek: TNG episode.  I didn't know how to approach this series at first.  The first entry,  I just picked an episode I had always enjoyed and wrote about it.  I didn't know how long I could do that, or if I should try to review them in order or what, so I decided to do it randomly.  And to assure that it is completely random, I have gone to a random number generator on the internet.  Here's how it works: First I enter the range 1-7, for the 7 seasons of the series.  Once that number is generated, i put in the range of the number of episodes in that season, like 1-25.  This gives me a result like season 3, episode 14.  That's the episode I will watch, and then I will write about it here.  I will keep track of the episodes that I have already discussed, so if the number generator spits out the same result again, I will regenerate until it is an episode we have not discussed. If it is a two-part episode, either the first part or the second, then I will watch both parts and review them here as one episode, for example Best of Both Worlds would be discussed as one episode, instead of two. I think this will be a fun way to rediscover the series I loved so much. For today's entry, the number generator produced season 7, episode 10, which is entitled "Inheritance."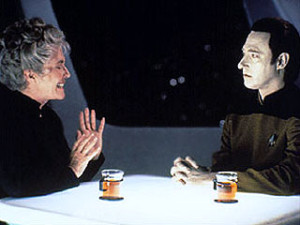 In this episode, the crew of the Enterprise is sent to help a planet that is having some seismic issues and they need to help them solve it or the planet is going to be destroyed.  Don't worry too much about the details of that, because, believe it or not, that is the secondary storyline of this episode.  One of the scientists from the plane who is helping with this seismic issue is a human named Julianna.  Once she and the other scientists meet with Captain Picard and the other senior officers, she hangs back to speak with Data.  She asks if he remembers her or recognizes her.  He doesn't and she mentions that it is because he memory had been erased, and that she was there from the beginning, that she was married to Dr. Soong and had helped him build Data.  She was essentially his mother.  And that's only the first bombshell here.
The first half of the episode involves Data researching records to validate her story.  He had previously been unaware that Soong had been married to anyone, so he had no idea that this mother figure existed.  In his research he is able to confirm what she has told him, so he accepts that she is his mother, and decides to try to get to know her a little better.  They visit in 10 Forward and she tells him about his "childhood," from her stories we learn that Data started out very rude,  demonstrating a need for a politeness protocol to be added to his programming.  We also learn that he was a little nudist, refusing to put on clothing because he did not need protection from the elements.  This meant they had to add a modesty program as well.  During this "getting to know you" phase, Data, his mother, and LaForge are all working on drilling some magma pockets into the planet's surface using phasers.  Data is of course doing the heavy lifting in the calculating department, but at one point, a correction needs to be made, and his mother is able to do it on the fly, showing she is one smart cookie.  This raises Data's suspicions, to the point that he requests to see her medical records, which Dr. Crusher refuses to let him do.
Data and his mother are sent down to the planet to work on setting some kind of stabilization up in the magma pockets to save the planet.  The pockets are becoming unsafe, so the two of them are sent down to work quickly to finish the set up.  While down there they experience an earthquake type event and quickly finish up and head back to where they need to be to beam back up to the ship.  Their field generators have fallen off a ledge, and they need them to be able to beam back.  At this point, Data is pretty certain about his assumption, so he suggests that the two of them jump down.  He grabs her arm and they both leap off the ledge.  Data is fine, but Julianna's arm has come off, revealing that she is an android, just like Data.
Once they are back on the ship, they inspect this new android very closely, and find she is much more complex than Data.  She has emotions, and tear ducts, and sweat glands, and puts out bio signs as if she were human.  She even ages like a human.  While looking inside her android head, they find an info module that has a holographic interface.  Data takes it the holodeck and the image is Doctor Soong.  He explains to Data why she was an android, how she had been injured during the attack by the crystalline entity, and she didn't recover and died.  So he took her memories and turned her into an android.  He then asks Data not to tell her the truth, to let her live out her "life" still believing that she is a human being.  Data is torn.  On the one hand, if he tells her then they will have that in common and he won't be alone in the universe.  on the other, she has what he has always strived for: she lives as a human, and he is not sure he can take that away.
This is a great Data episode as he continues to define what life truly is, and how artificial life can fit in with the rest of the universe.  Obviously, this is in season 7 so he is much further along in this process than he would be in say, season 1 or 2.  It was always interesting to me to watch the "Data" episodes, because his exploration of what our life is is a reflection of our exploration of our own lives.  It helps us to kind of step outside and look at ourselves differently. Because this is so Data centric, we see mainly just Data in this episode, with the other members of the crew popping in from time to time to remind us that they are still there.
I didn't really remember this episode that well when it came up in the generator, so it was fun to watch it again and experience it again.  I am not a Data guy.  I enjoy the character, but if I am going to look for specific character episodes to watch, I would be more likely drawn to a Picard or Worf episode, so it was fun to experience a Data episode again. I would recommend this one, if you're looking for something to watch on Netflix, check it out.