To be fair, the title of this post is a bit misleading. Salt Lake Comic Con (no dash) has always been legit. From their very first show, up through their most recent FanX, SLCC has done an incredible job listening to fans and bringing them the experiences they want. As of yesterday, though, Salt Lake Comic Con is more legit, maybe even 2 Legit, 2 Legit 2 Quit (I'm sorry, I know that was lame). I'll be honest, the guest lineup this year was pretty good for some folks, but I wasn't really feeling it as much as previous years. There were a few guests I was excited about, but it just didn't seem like there were as many as for me as previous cons. Of course, part of that may be that anything short of a David Tennant or Peter Capaldi feels like a let down after Matt Smith came in January.
Then this happened: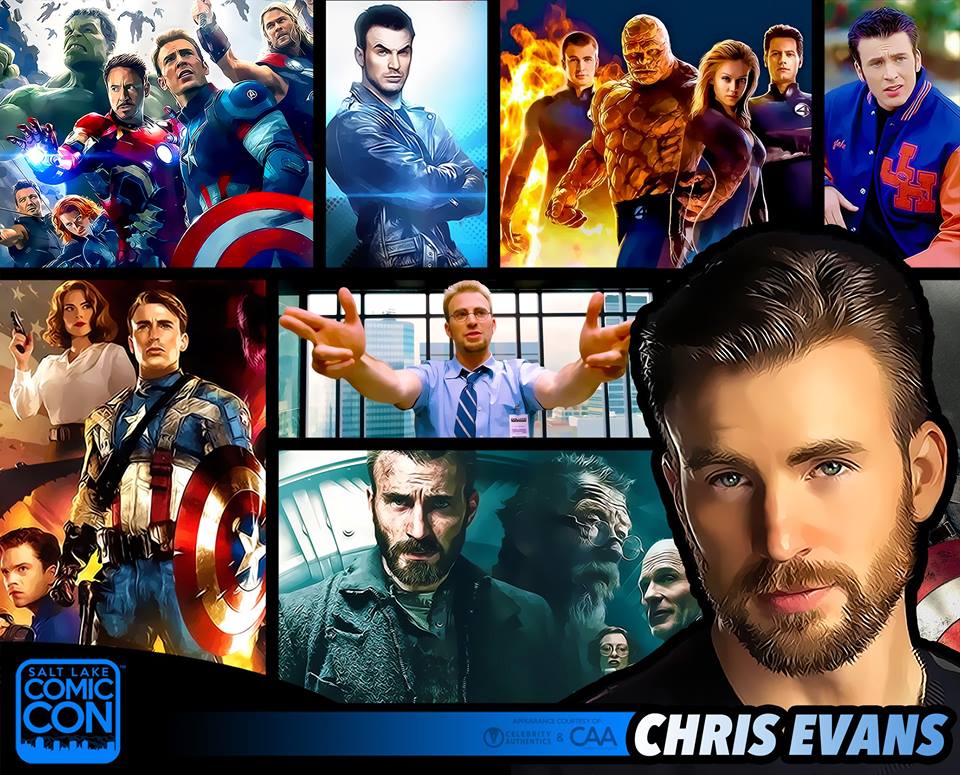 Yesterday, Salt Lake Comic Con announced that Chris Evans would be attending the convention on the Saturday of the event. This is huge. You know where Chris Evans wasn't? San Diego Comic-Con (with a dash). You know what he has never done at other conventions, that he's doing at SLCC? Photo ops and autographs. Do you know how awesome that is? Epic. Oh, and to add to the awesomeness, there was this little bit of information, leaked from Hayley Atwell's twitter account:
@f4denz@ChrisEvans@slcomiccon yes!

— Hayley Atwell (@HayleyAtwell) July 17, 2015
Hayley was asked if she might be joining Chris for the con in Salt Lake, and she said yes. Which would be pretty cool. These are two huge names who are currently in the MCU. I think the fans in Salt Lake would love to see these two together. I know I would.
What is even cooler about Chris Evans coming is the story about how the booking went down. According to an article written by a local reporter for USA Today, Dan Farr made contact with Chris Evans agent in Houston at Comicpalooza (apparently the agent was there with Hayley Atwell, so that might explain why she is also coming to SLCC). He was talking to them about coming to Salt Lake, when Marina Sirtis (aka Deanna Troi), a SLCC alum, came up and told the age that they had to come to Salt Lake Comic Con. She said it was the best event around, and that the fans were the best. That's pretty high praise. Now, the result is that we are getting these two mega stars here in Salt Lake.
I am so excited about this and how it all went down. We are building a reputation for being a premier spot for celebrities to come and meet their fans. We are building a reputation for being an awesome geeky fan base, and that is pretty cool. The fact that our fans played a role in why this happened seems to just fit. SLCC has always been about the fans and what we want.
I think the other thing that makes me so excited about Chris Evans coming here is that this will open the door for other huge, epic names to come here. Assuming Chris will have a great experience here (how could he not?), he'll go back and tell his friends that this is the place to come, and then when they get contacted, they'll want to come because they will have heard how awesome we all are. This is huge, Chris Evans coming, but I have a feeling that this is only the beginning. I can't wait to see where we go from here. Salt Lake Comic Con is legit.
What did you think of the big announcement yesterday? Was it as epic as advertised, or are you still holding your breath, maybe a little, for someone else? (David Tennant) Let me know in the comments below. Or on my Facebook page or Google +, or send it to my email directly at [email protected].