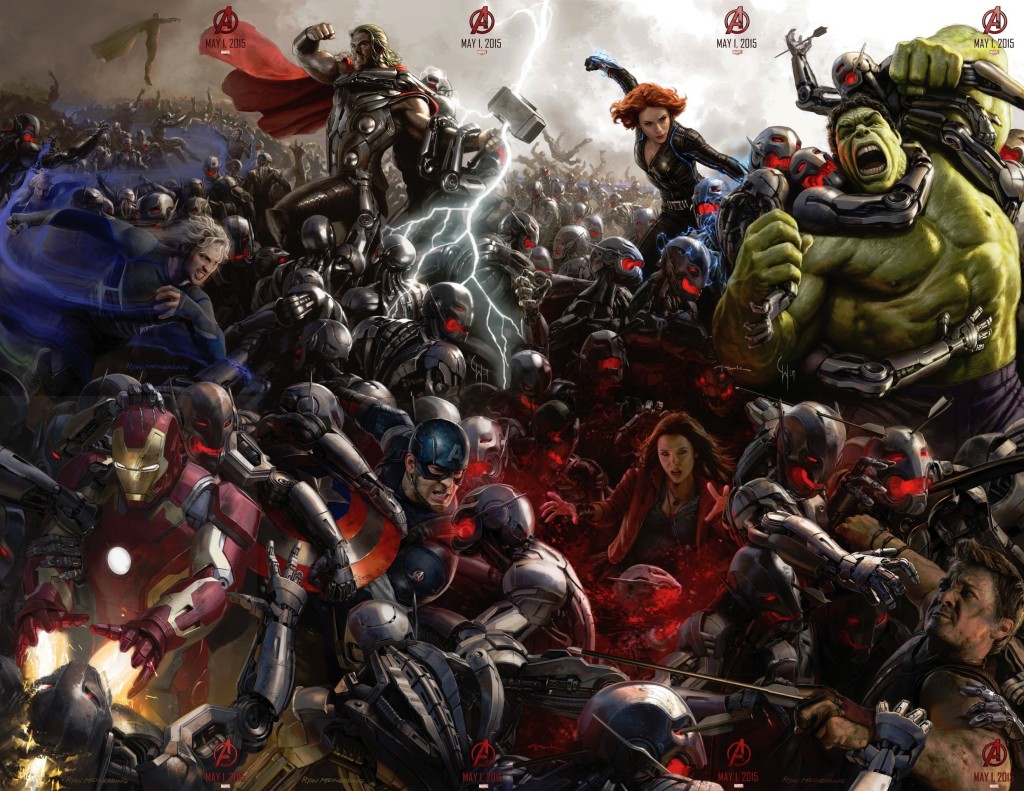 Last night I had the opportunity to go see Avengers: Age of Ultron, an event that I have been leading up to on the blog over the last two months by reviewing each of the previous 10 Marvel films. Age of Ultron has been incredibly hyped and promoted, to the point that one would think there is now way it could live up to all of it. Well, after being it, I can say it did live up to the hype, at least in my opinion, for the most part. Today, I am going to attempt to review the movie without spoiling it for anyone who hasn't seen it. To do this I am going to break this review into my 5 categories and talk about how it fared in each category without going into detail. Hopefully this works out okay for everyone.
Plot
If I had anything to nitpick about this movie, it would be the plot. Not because the story wasn't entertaining, but because it seems like it followed a lot of the same plot lines as the first Avengers. In the film we see the same stages of team formation that we saw in the first film. We see some forming, then storming, norming and performing. Without going into detail, it seems like at one point in the film, the team is right back where they started in the first Avengers film, despite the fact that they have been working together for a couple of years now. That being said, I don't know how else you could make a great super hero team movie without finding a way to tell this kind of story. That's what makes sequels like this so hard. Like I said at the beginning of this section, that's nitpicking. My brother and i noticed the similarities, but we were also thoroughly entertained. Obviously, while the overall plot may be similar deep down, on the surface it also feels very different because we have a different villain, so in the end it works just fine. Overall, for the plot, I would give this a 4 out 5 stars.
Dialogue
This is one area where the Avengers' time together shines through. This cast obviously has some great chemistry, and you can tell on screen. There are some great one liners, and while tempting to share a few of them here, I am going to refrain. This has become a trademark of the MCU films, the witty back and forth and snappy dialogue. Age of Ultron is no exception. The main cast is great in their delivery and it is everything you would expect. Throwing in a master of wit, like James Spader, as the main antagonist, and it only helps your cause. He was incredible as Ulton. The way he delivered his lines was classic James Spader. His performance is a highlight of this film. Only die-hard fangirls will be sad that Loki is not involved in this film at all. No one else will miss the god of mischief because of James Spader's performance. Overall, for the whole film, for dialogue, I would rank this 4.5 stars.
Character Development
I was assuming we would see a little bit of the conflict between Cap and Iron Man begin to emerge in this film, leading into Civil War.  There is a little bit of it there, and you begin to see how the two of them view the world differently and how they view their roles differently. The most interesting thing is that as you begin to see those differences that could lead to that conflict, you also see their friendship develop more as well. I think Civil War  is going to be a great film, and I can't wait to see how they get to that point. As far as the other characters in this film, there is some great development throughout the team, but none of the characters grow as much as Hawkeye does. We see his character in a whole new light after this film. And that is all I am going to say about that. Overall character development gets 4.5 stars.
Acting
There was nothing that blew me away about the acting in this film. It was exactly what you expect from an MCU movie. It didn't disappoint at all, but no one is going to win any awards for their performance. That's fine. No one expects that from an action film. At the very least, like all MCU films, the acting is not so horrible that it ruins what could have been a decent film. Instead, it is a strong performance from everyone involved. RDJ and Chris Evans turn in some great work, and continue to establish themselves as the leading men of the MCU. Mark Ruffalo is a highlight as always, and I think James Spader was wonderful. Overall, the acting is a 4 out of 5 stars.
Entertainment Value
This one is easily a 5 out of 5 stars. When I went to the film, was I entertained? Absolutely! Whedon packs this film with almost nonstop action from start to finish. There is hardly a moment to catch your breath, and that's what i want from a big, blockbuster picture like this one. The action does not disappoint, but the story never gets lost in the action either. The battles in this movie are some of the best ever put in a superhero movie. They take what we saw in Avengers  to the next level, and set a new standard. A lot of times these movies will have one or two smaller battles and then the really big one at the end. This one has way more, and each one makes sense and looks incredible. That mixed with the dialogue and humor and everything makes this category a 5 out of 5.
Overall
This is a great addition to the MCU family. It will make a ton of money, and it earns every penny. Go see this film, although I'll bet most of you already have. It is incredible and fun. I can't wait to find a babysitter and take my wife, and then maybe take my oldest some time, because he'll want to watch it, and then maybe I'll have to find an excuse to see it a couple more times before it leaves theaters. Great film.
As a side note, we saw it in IMX- do that if you can- and one of the previews at the beginning was Dawn of Justice. It looked much better on the big screen, so it restored my hope that the movie is going to be ok.
Loved this movie. Those of you who have seen it, what did you think? Please try to avoid posting any spoilers on this review, to keep it spoiler free.