August is almost over, which means a couple of things.  The summer blockbuster season is coming to a close.  This year was a slump compared to last year, and what will that mean for all these big budget super hero flicks coming down the pipe? End of August, beginning of September also means that Salt Lake Comic Con is almost here.  We are less than a week away, and your humble blogger can't wait to be there among his native people: Geeks. Here are a few stories from this last week:
The Tick is Returning with Patrick Warburton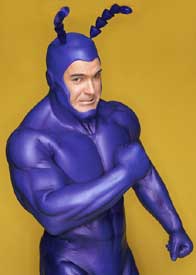 Technically, this news just broke today, but I would be an irresponsible blogger if I didn't include it in this post.  People.com is reporting that the live action Tick televisions series is returning to Amazon and their streaming service.  Even better news, Patrick Warburton has reportedly already signed a contract with Amazon to return as the big guy for the series.  Honestly, would it have been the Tick if he wasn't coming back?  This was a short-lived, quirky series, but a classic.  Plus, I love almost anything Patrick Warburton does.  He could make reading the phone book funny (for our younger readers, the phone book is a now extinct book that would come out each year with a listing of phone numbers in your area.  IT has now been replaced by the internet).  Take the opportunity to congratulate Warburton, as he appears at the Salt Lake Comic Con this upcoming week.  I wonder if this means we will see an upTICK in Tick cosplay…(see what I did there?  UpTICK, like the Tick? Get it?)
GOTG Continues Strong Box Office Showing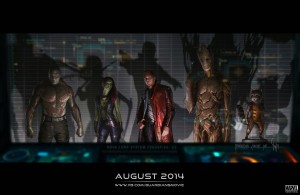 Guardians of the Galaxy was already the biggest hit of the summer, but as of this week, it has surpassed everyone to become the biggest domestic hit of the year, beating out Captain America: The Winter Soldier.  And, with nothing big coming out in the next month or so, it looks like it will continue to have a strong run.  Some experts are predicting that it could break the $300 million mark.  This is a huge hit for Marvel and their parent company, Disney.  This was a property that no one had ever heard of except for hardcore comics fans.  Now it is the biggest domestic movie of the year.  Behold the power of Marvel!
Hawkeye's New Suit for Avengers: Age of Ultron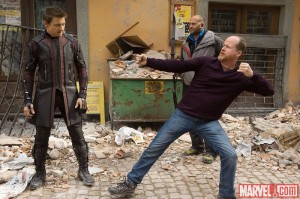 New set pics have revealed how Hawkeye will look in the new Avengers movie.  Personally, not a fan.  I don't like the long coat.  IT just seems pointless and it would get in the way with all the running and there jumping.  I liked his look in Avengers, and that they carried that look into the comics.  I think Hawkeye is a very interesting character because he has no powers, at all, and he is trying to keep up with all these super powered team mates.  It's pretty cool, and I felt like he looked pretty cool in the last film.  Despite not liking this look, I am eternally grateful that it isn't this look: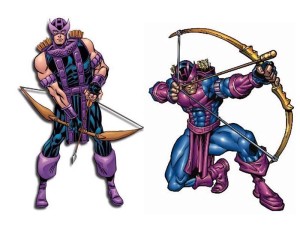 Salt Lake Comic Con Rounding Out Their Guests

I know I give a lot of love to the Salt Lake Comic Con, but they are the biggest convention out my way.  I love that we have something like this here locally that I can now attend without spending a ton of money.  As we get closer to the con, they have been making the guest announcements left and right.  Some of the highlights recently have been Paul McGann and Colin Baker, who both played the Doctor in Doctor Who, as well as Ron Perlman, who played HellBoy in arguably one of the most underrated super hero movies ever, and Eric Roberts who played the Master opposite McGann's Doctor in the Doctor Who TV Movie.  I expect that we will be hearing about more guests as the Con draws closer.  I have seen lots of people posting that Matt Smith is going to be there.  None of these people are Bryan Brandenburg or Dan Farr, so take it with a grain of salt, but maybe the rumors will pan out.  For a current list of the guests scheduled to be at the Salt Lake Comic Con, please click here.  You can also visit their site's home page for more info on tickets, autographs and photo ops, and special events.
That's it for now.  Please check back next week.  We should have plenty of follow-up from the Con and more geek news.