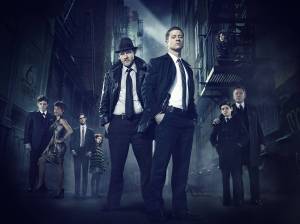 Fall is officially here, which means primetime TV is back.  One of the strongest new contenders this year is Gotham. In one of my earlier posts, I referred to Gotham as Batman getting the Smallville treatment.  I watched the premiere last night (thank you Fox Now app on Apple TV), and let me just say I was wrong.  Gotham is so much more than that.  First of all, the quality is leaps and bounds better than what we saw on Smallville.  By quality, I mean that it just looks nicer, the acting is just better, and the writing seems stronger.  Smallville always felt like a teenage soap opera with super heroes thrown in.  Gotham does not feel like that at all.  I think one of the big reasons is the fact that the main character is not Bruce Wayne.  From what I can tell, this is not the story of how Bruce becomes Batman.  No, this is the story of how James Gordon becomes Commissioner Gordon, and how he cleans up the police force in Gotham City. Jim Gordon is the main character, and also happens to be the only good guy in the whole city.  All the cops are corrupt and under Falcone's thumb.  Gordon, alone, is trying to do the right thing and it gets him in trouble.
Spoilers: Bruce Wayne's parents get shot.  If that really is a spoiler for you, then obviously, you know nothing about Batman, so chances are you are not going to watch this show, so chances are, it's still not really a spoiler for you.  This leads to the best scene in the whole episode: Jim Gordon meeting and then comforting the traumatized Bruce Wayne.  It is well shot, well written, and well acted.  This is the moment that endears the viewer to both characters.  That's a good thing, because the rest of the characters in this show are not endearing at all.  There is nothing likable about Fish Mooney, Oswald, Nigma, Bullock, or Falcone, or anyone else for that matter.  At the end of the episode, I was exhausted, just thinking about how much work Gordon has to do.  It is going to wear him out.  It's going to wear me out as I watch it each week.
The final verdict for me on this show is a solid thumbs up.  I am not a Batman fan.  I am familiar with the basic story of Batman, I've read some of the essential Batman books out there, but I have never cared that much for Batman.  I know, I may the lone geek out there who feels that way, but I have just always felt that for a hero, Batman is just too dark and sinister.  I prefer my heroes to be less dark and sinister.  All that being said,  really enjoyed this show.  I think the big reason why was James Gordon's character.  He is a good guy.  He is not dark and sinister.  He believes that light can overcome the darkness of Gotham, which makes him a better man than Batman/Bruce Wayne, who thinks the way to go is to fight the darkness with more darkness.  Gordon drives the show, and it feels more like a gritty cop show than a super hero show.  That just seems to work for me.  I would definitely say this is a must watch.