This year with Comic Con coming up I started thinking about what to dress the kids up in. Sometimes we will buy their halloween costumes early and they will wear those to Comic Con, in fact we did that this year for the boys, but this year for the girls I decided to do something a little different. All of our kids have plenty of geeky shirts, superheroes, Star Wars, etc., so I decided to make them little skirts to wear with their superhero shirts. I bought more fabric than I needed so I decided to make them some little bags to match, that is why this post is  called skirts and bags for Comic Con, the original plan was just skirts but since there was extra fabric I figured I might as well. Besides, they will be perfect for trick or treating next month. I thought the skirts would be nice because they can wear them anytime unlike a costume that you wear once or twice.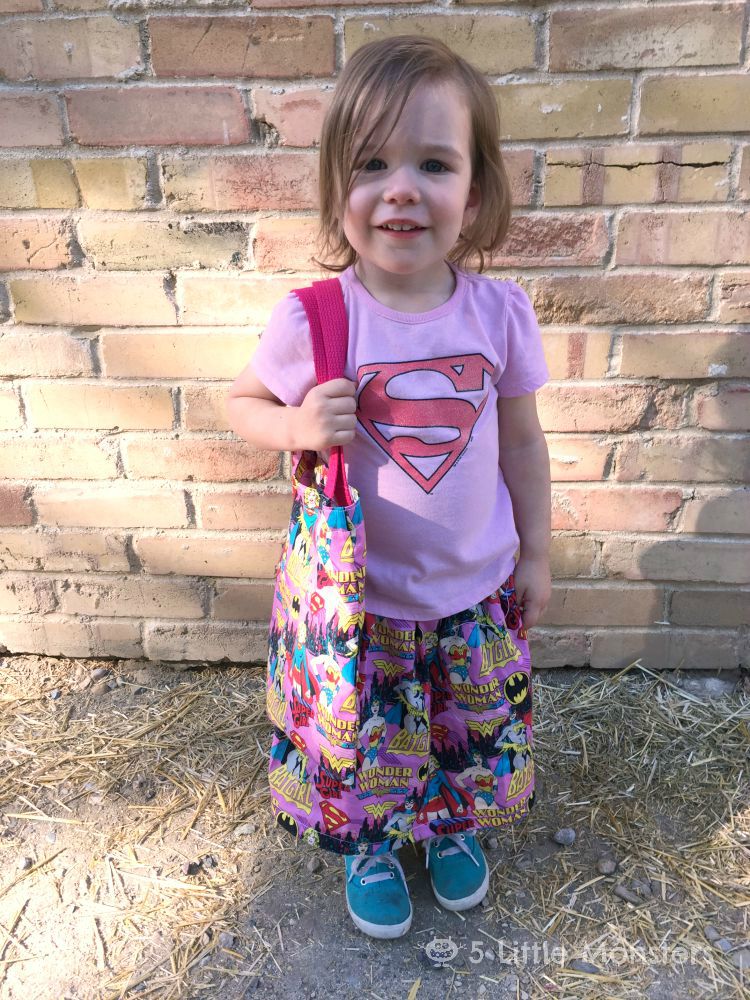 I only made the skirts and bags for my 2 little girls. One of them loves Batman and Batgirl, in fact the other day Jake asked her "What do you want to do today?", her response, "be Batman". So for her I bought some fabric that has Batgirl, Supergirl, and Wonder Woman.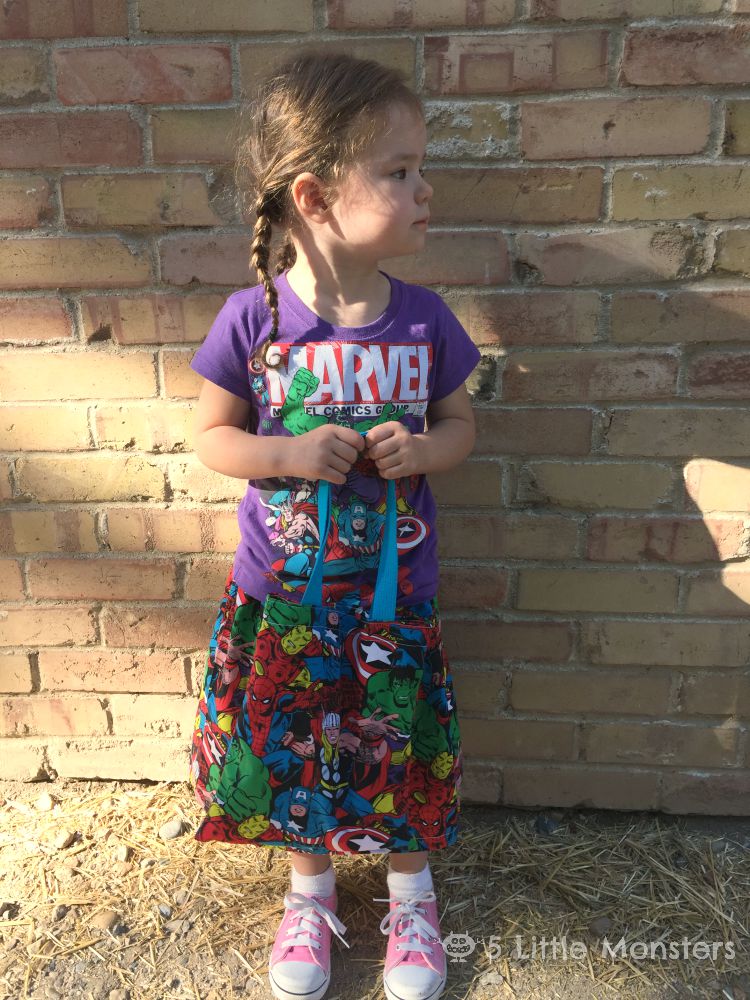 My other daughter is obsessed, and no that is not an exaggeration, with Thor. The best I could find with Thor was some Marvel fabric but as long as Thor was on it she was happy. And she had the perfect shirt to match so it worked out great.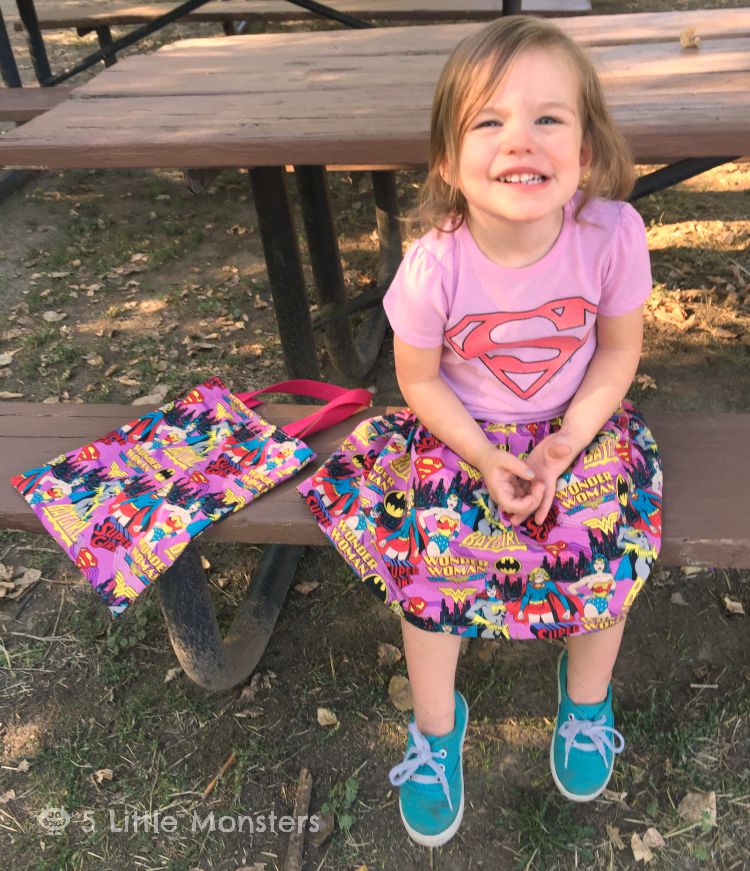 Both the skirts and the bags are very simple to make. Just a couple of seams on each one. I will explain how I made the skirts but the exact measurements will depend on the size that you want the skirt to be. I will give measurement for the bag but know that I made them small for little kids, they would be easy to make bigger by simply cutting a larger piece of fabric. I also used french seams on the bag so that, even though I chose not to line it, there are no exposed seams inside the bag.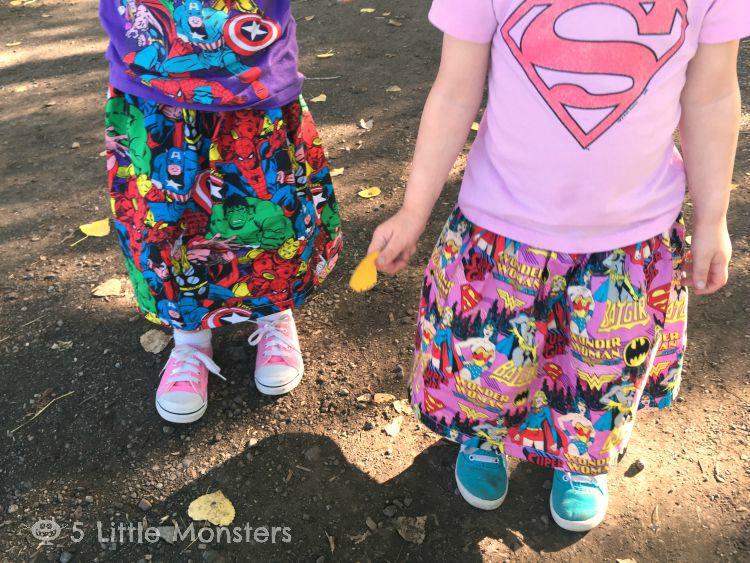 How To Make Simple Skirts for Comic Con
The skirts I made fit a 2 and 3 year old, the amount of fabric you need will depend on the size of skirt you are making.
You will need:
Character fabric in amount needed (I bought 1 yard of fabric and that was enough for a skirt, a bag, and some leftover)
1 inch wide elastic, enough to fit around waist
safety pin
thread
sewing machine
scissors and/or rotary cutter, mat and ruler
Instructions
To determine the length to cut your skirt first measure from the waist to the point on the leg where you want the skirt to hit. To that number add 3 inches for the casing around the waist and 1-2 inches for the hem (depending on how narrow of a hem you want). For the width you probably want about twice the waist measurement to make the skirt nice and full. Because my girls are really small I just used the width of the fabric which was more than twice their waist measurement. The measurements I used for my skirts are these:
3 Year Old Skirt: width of fabric x 20 inches
2 Year Old Skirt: width of fabric x 17 inches
Because I used the width of fabric I only had one seam up the back of the skirt, If you need more than the width of fabric you will need to cut 2 panels and sew a seam up each side of the skirt. I could have bought 1/2 a yard for the smaller skirt and 5/8 of a yard for the bigger one. If you need to cut 2 panels you will need to buy enough for twice the length. For example if I needed to cut a skirt that was two panels each 30 inches long I would need to buy 60 inches of fabric. Keep in mind that most character print fabrics are directional so you have to cut them a certain way or your pictures will be upside down. Cut a piece of elastic to fit around the waist and overlap an inch or so.
Once you have figured out your measurements and cut out your fabric, fold it in half (or place the 2 pieces together if you have 2 sections) right sides together and sew the back (or side) seam. Fold down the top 1 1/2 inches two times and sew no more that a 1/4 inch from the edge to create your casing, leaving an opening in the back large enough to put the elastic through.
Attach safety pin to the end of your elastic and push through the opening and around the waist of the skirt, be sure not to pull the other end through. Overlap the ends and sew together with a zigzag stitch. Stitch the opening closed.
Fold up the bottom of the skirt 1/2-1 inch two times and stitch close to inside edge to hem.
That's it, your skirt is done. A super simple, cute, and fun little outfit for Comic Con.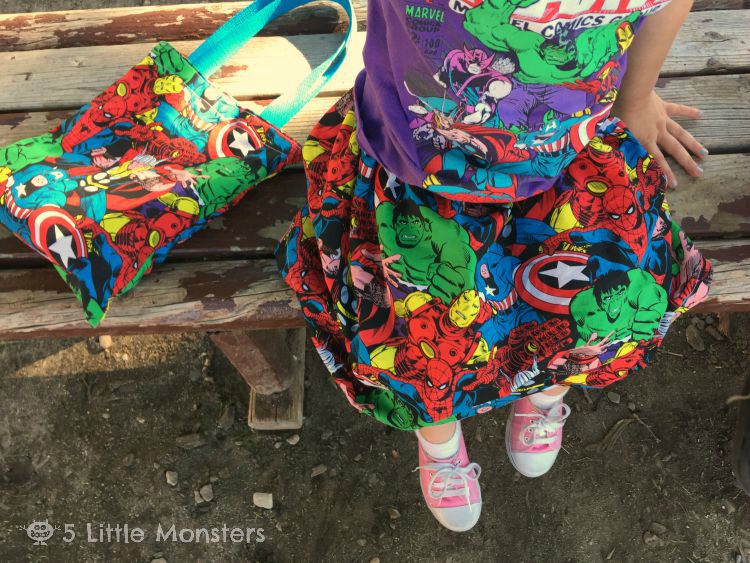 How To Make Simple Bags for Comic Con
Finished Size- 9″ x 10″ not including handles
You will Need:
1/2 yard of fabric (you will have leftover)
40 inches of cotton webbing, ribbon, twill tape or something similar for handles (I used this)
thread
sewing machine
scissors, rotary cutter, mat, ruler
Instructions:
Cut 2 rectangles 11″ x 14″
Cut 2 lengths of webbing or ribbon 20″ each
Place 2 rectangles wrong sides together and sew around 3 edges, 2 long, 1 short, with a 1/4 inch seam allowance. (see first and second picture below)
Clip the corners and trim a little bit off of the seam allowance on all three sides. (see third picture)
Turn inside out, make sure seams and corners are all pushed all the way out, it helps to press it at this point. Then sew around three sides again with the right sides together using a 1/4 inch seam allowance. (see first picture, bottom row)
Turn right side out. Your seam should now be fully enclosed, there should not be any parts of the seam showing through on the outside of the bag. (see last 2 pictures of both the outside and inside of the bag.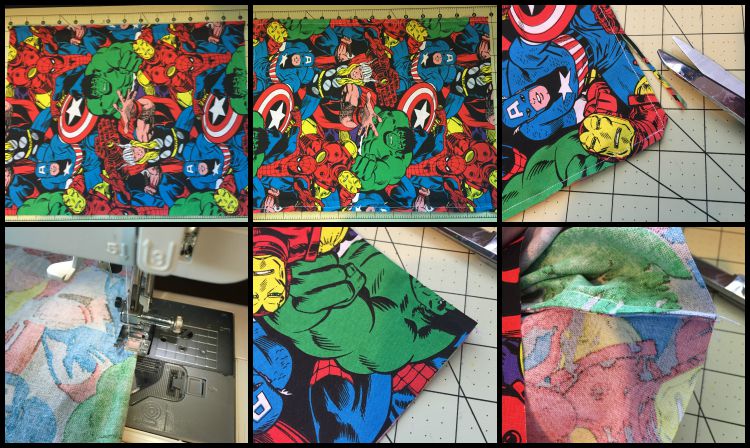 To attach the handles, first, fold down top edge 1 inch to the inside of the bag.
Measure 2 inches in from the outside seam on each side and pin the handles in place.
Fold again so that the raw edge is now inside and pin so that the handle is folded up and in the position it will be in on the finished bag, the raw edge of the handle will be tucked up inside of the hem.
Sew around the top of the bag twice, once close to the inside edge of the hem and once close to the top edge.
Now you have a little bag perfect for carrying around treasures from Comic Con, toys, or to collect trick or treating candy on halloween.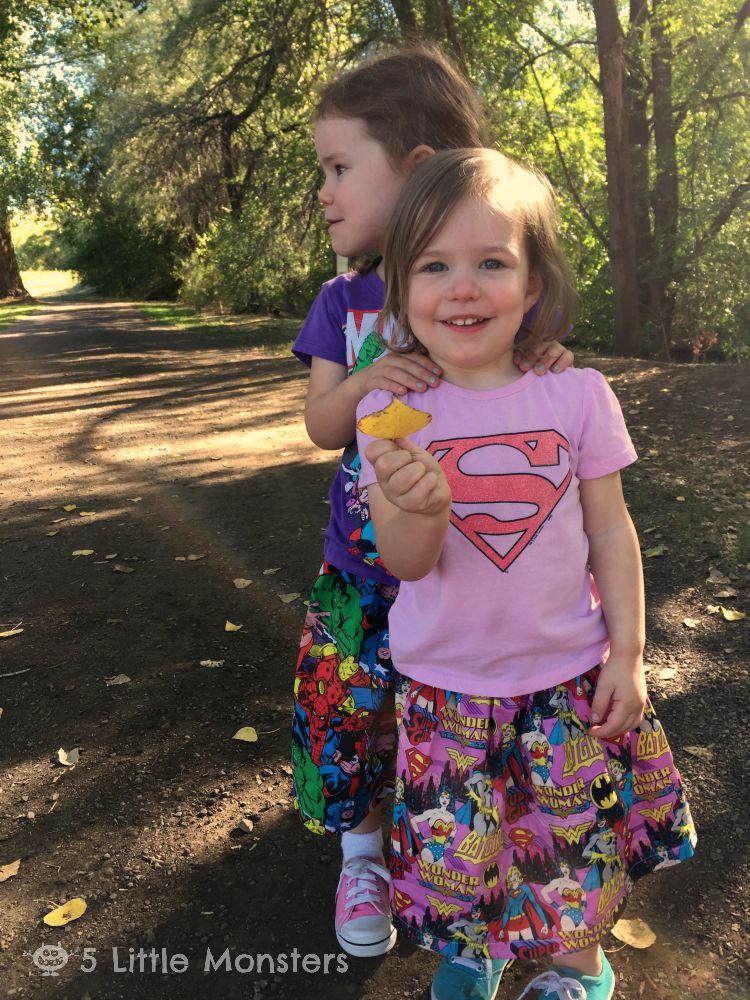 I hope you enjoy these quick and easy little outfits for Comic Con. My girls are all ready for tomorrow, are you?