I sat and pondered all weekend of what I would do as my first post on The Geeky Mormon. Should I review the latest movie I had seen or the biggest gossip in the geek world or some intellectual discourse on the finer points of Geekdom. Nothing sat well with me in my mind until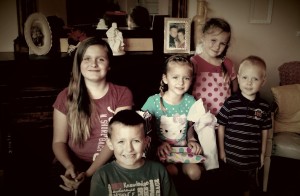 I came to this point, "how do my kids see me?"
I am a proud father of 5 kids ranging from 3 to 11 years old. Three girls and two boys, not to be biased they are awesome, but I digress. They each have there own likes and dislikes, hobbies and desires. With a couple, there hobby is to destroy the basement every day when we clean it. Even with all other the differences, we have one common goal and that is to be together as a family.
A couple of years ago I felt like I needed to do something to inspire my kids to do what their hearts desired. When we look at the world we have a lot of people putting our kids down and telling them to stop dreaming. I knew that I wanted my kids to believe they could do amazing things. My mantra in life from that day forward was, "Don't limit yourself by what you think you can do but what you dream you can do."  I needed to show that if you believe in something and put the work in to achieving it you can do anything.
Many great people through history have lived to this principle and today we see the benefits of their dreams. If you have the desire you can achieve anything. I wanted to show this principle to my kids, so I began my journey.
I have always been interested in movies, TV, Sci-Fi and comic book universes. I wondered if I could produce my stories and draw the spectacular artwork that is in comic books today. I sat down and began to draw. Wow!! I sucked. I think I burnt my first few sketches due to how bad they were. How was I to teach my kids if I gave up at the first hurdle. This was a big hurdle, I could not draw! I decided to buckle down and study and practice, practice, practice. Slowly I started to see an improvement. Two years later I submitted my art work to the Salt Lake City Comic Con, the third largest comic con in the country to see if I could get a booth. I totally expected a thanks please try again next year, but instead I got an invitation to be in the artist alley.
I did these things to inspire my kids to believe. What happened was amazing. My kids have started to think and dream. My oldest boy William (9 Years old) now produces his own comic strip called The Grumpy Clown. His first few episode of this clowns adventure will be posted very soon. My oldest daughter Hannah (11 years old) a couple of years ago started to write children's books and she has stored them at her school to allow all the kids in the grades below her to enjoy them.
My youngest three continue to impress me with their creativity and frustrate me with the mess they make.
I think the message from this is that it does not matter how old you are… live your dreams. Take the time and do what you love.
"Don't limit yourself by what you think you can do but what you dream you can do."