Hello my fellow geeks! In honor of Valentine's Day, we have a very special Geek Craft presentation. As always, the craft is brought to us by Erica Dietz, the very talented creator of 5 Little Monsters. She also happens to be my wife (which makes me one lucky guy). She made this particular craft for me while I was on a trip last October, and then she hid it from me for a while, and finally gave it to me for my birthday this year. I love it, and I thought it would be perfect for a February Geek Craft. It is a simple, yet fun way to remember one of the most romantic lines in all of science fiction cinema. So, without further ado, here's Erica with our craft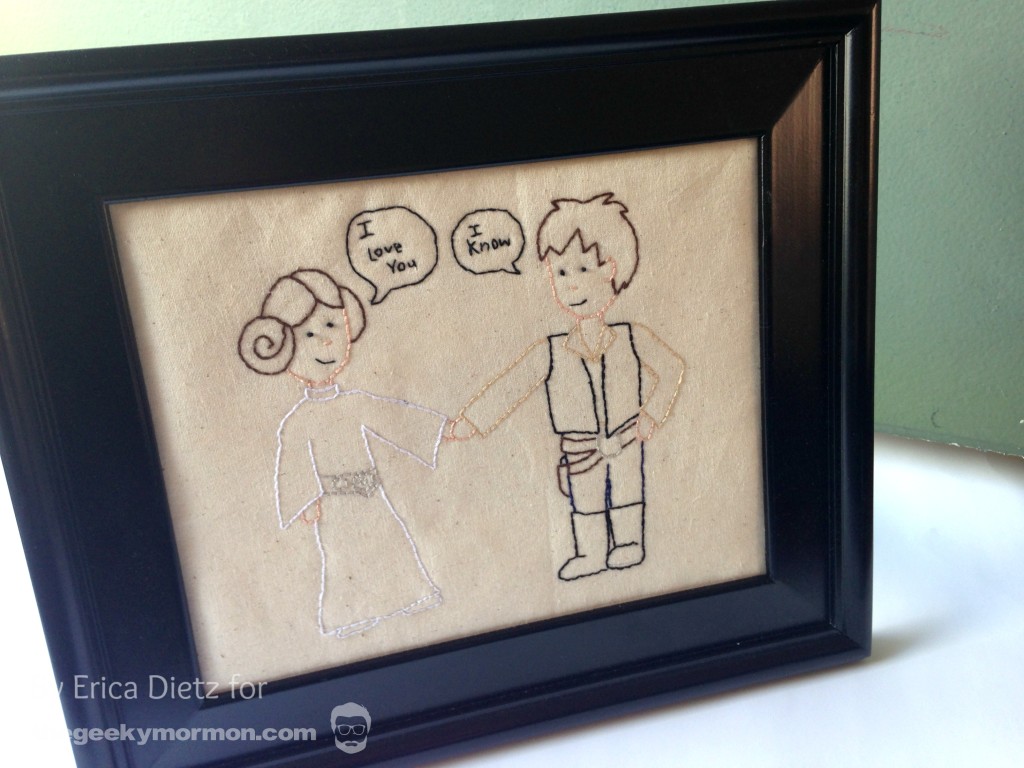 This is a really simple embroidery project, it only uses two different stitches. If you know how to backstitch and make a french knot you can make this, and if you don't they are really easy to learn and there are lots of tutorials online that will show you how to do those two stitches. After you've done this one then there's nothing stopping you from creating your own custom embroidery of your favorite movie.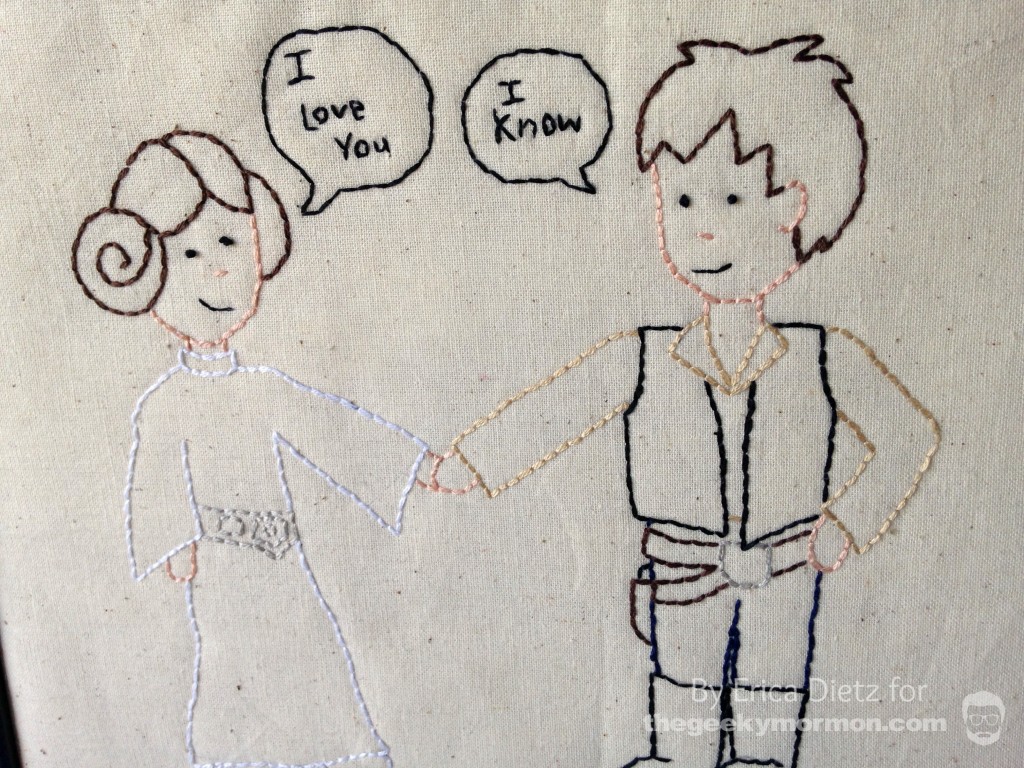 To make this you will need:
unbleached muslin about 10″x13″ (I chose this because I wanted something that Leia's white dress would show up on and I also didn't want it to be too close to the color of Han's shirt)
thin cotton batting 10″x13″
embroidery floss in 7 colors: white, brown, black, peach, light tan or cream, silver-gray, and navy blue
embroidery needle
embroidery hoop
8×10 picture frame
copy of the pattern included in this post
Click Here To Download Pattern
The first thing that you will need to do is trace the pattern onto the center of your muslin. I did this by taping the pattern to a window and holding the fabric over it while I traced it. I used a pencil to trace mine but if you want to make sure there are no lines after you are finished you can use a washable fabric marker. Once you have traced your pattern you will lay the fabric over the top of the batting. You will be stitching through both layers, the fabric and the batting. This will help there not be any threads showing through when you are finished.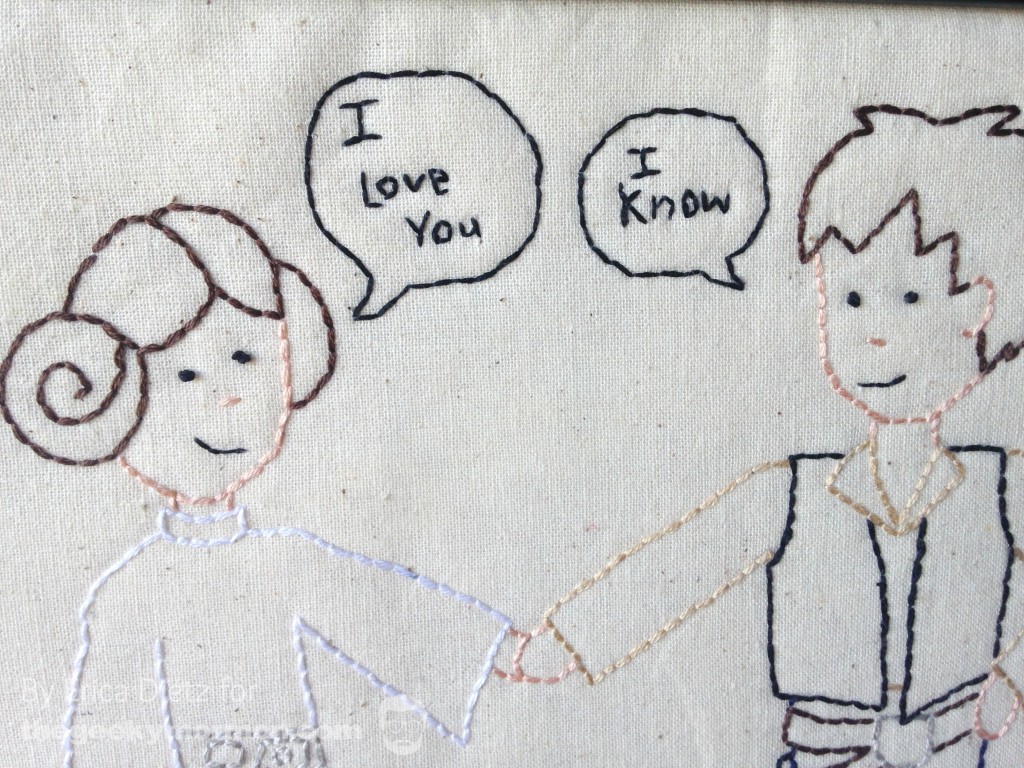 Now you are ready to begin stitching. Everything is done in backstitch with the exception of the eyes which are french knots.
With two strands of black, stitch the speech bubbles, words and both mouths. Make the french knots for the eyes. Everything else will be done using three strands.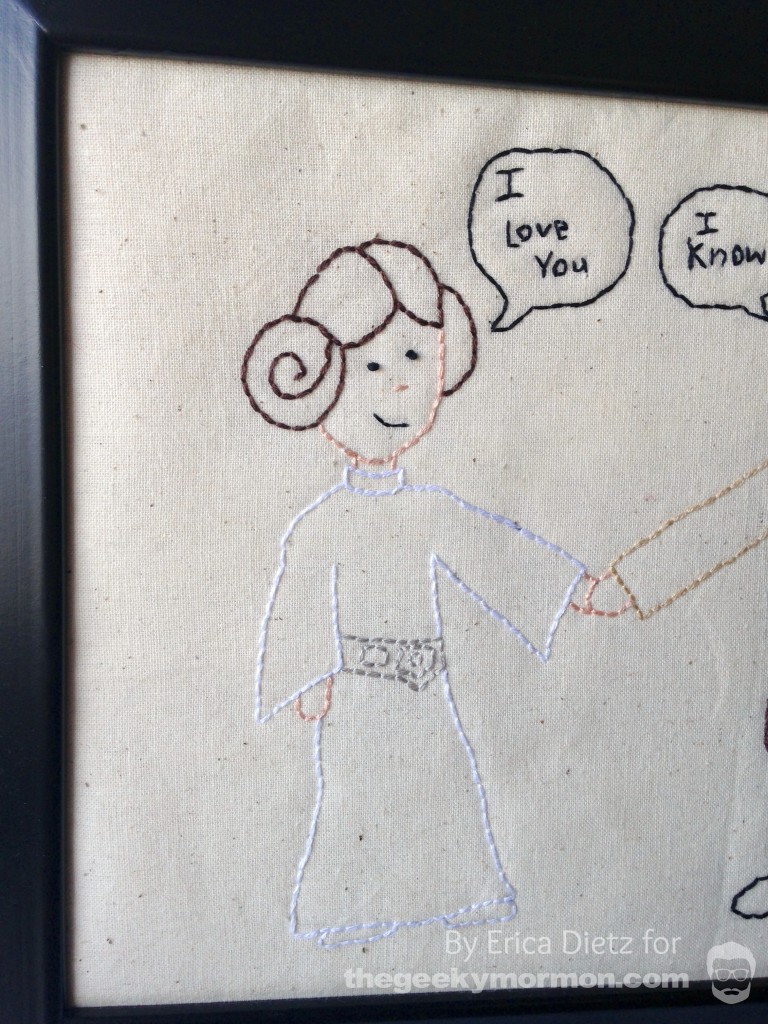 With three strands of peach stitch all of the skin, both faces, noses, necks, hands and Han's ear.
With three strands of white stitch Leia's dress and shoes.
With three strands of gray stitch Leia's belt and Han's belt buckle.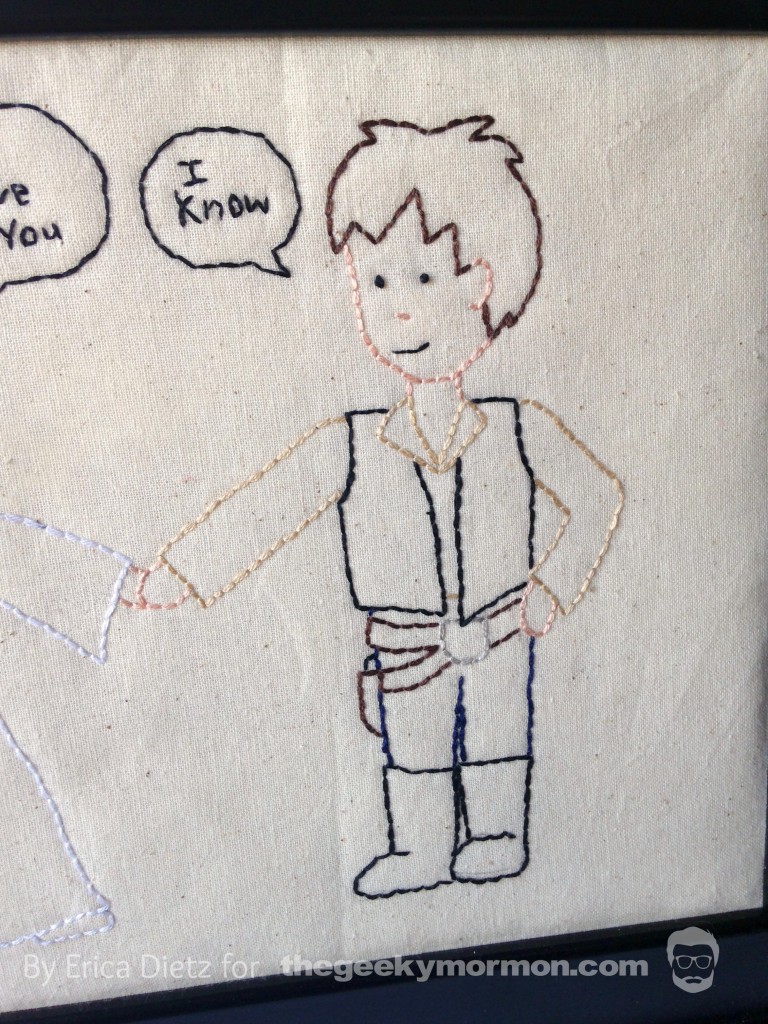 With three strands of brown stitch both Han's and Leia's hair and Han's belt and holster.
With three strands of light tan/cream stitch Han's shirt.
With three strands of black stitch Han's vest, boots and blaster.
With three strands of navy blue stitch Han's pants.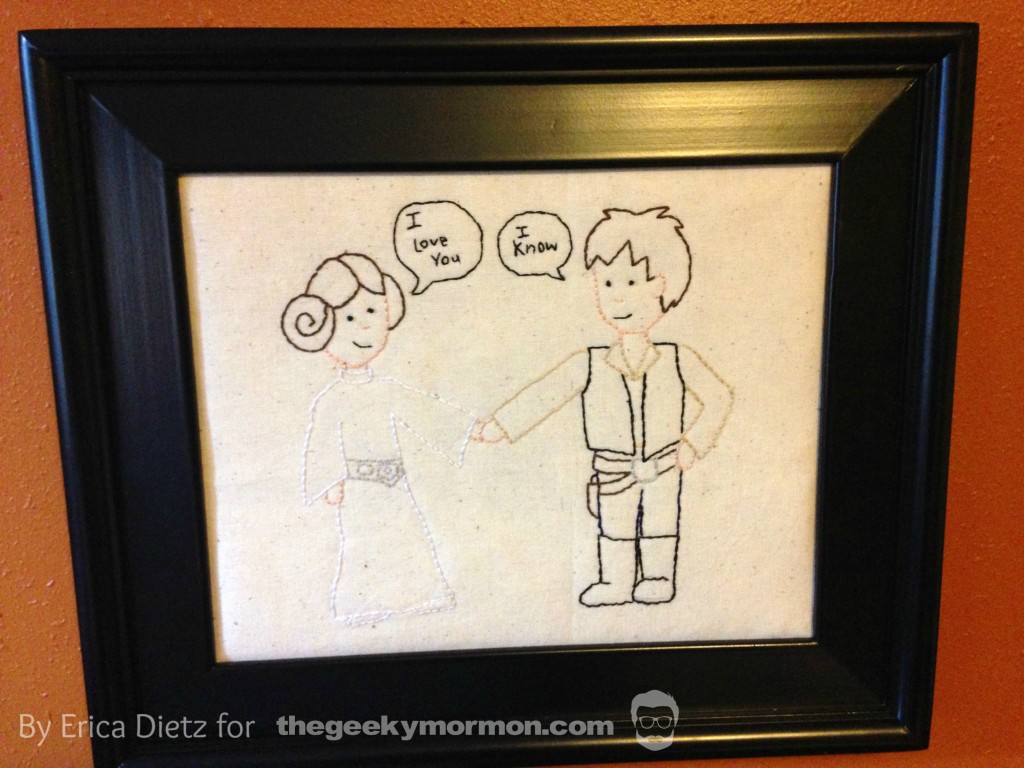 Now you are ready to frame your embroidery. I bought a frame at Walmart for around $10. I found that the really cheap ones had smaller openings and were a little closer to the stitching than I wanted. If your frame comes with a piece of cardboard you can use that to wrap your embroidery around. Mine did not so I actually just used the glass. I didn't want the glass over the top so I was just planning to take it out anyway. The first thing you will want to do is trim the batting to the size of the glass or cardboard you are wrapping it around, you don't want the extra bulk to wrap around the sides. After I trimmed the batting I pulled the edges around the glass and taped them down. I tried to make the corners as neat as possible and make sure that everything was pulled tightly but not so tight that it was stretching my embroidery. Once it was all taped down I put it back in the frame, put the back on and it was ready to be hung on the wall (or wrapped up as a birthday present).