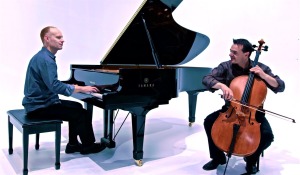 One of my favorite musical acts just came out with a new music video that I really enjoyed.  I first heard about Jon Schmidt when I was in high school. He was all the rage in popular Mormon Music.  It was him and Peter Breinholt.  His popular songs included Waterfall and All of Me.  Plus he could do a great Peanuts theme.  I remember going to a morning devotional at Seminary when he came and spoke and performed.  He was a piano god among teenage Mormons in the late 90's.  I first heard about Steven Sharp Nelson later, after my mission at a Paul Cardall concert, where Paul brought Steven on stage and he played the cello on stage, and I thought it was pretty cool.  Who knew that the cello was cool?  I had no idea.
A few years ago, these two came together to do a few YouTube videos, and their careers have never been the same since.  They just took off.  They go by the name "The Piano Guys," and they're pretty good.  They like to mix some classical stuff with contemporary stuff, as well as doing some non-traditional covers of some old favorites, like "Happy Together," covered on the cello.  It is some pretty fun stuff.  Now, I get that their stuff probably isn't for everyone.  Some people reading this might think I am pretty lame for bringing this up on a geek-centric web site. Did I mention they have a pretty geeky side too?
It's true.  In fact, the first song of theirs that I remember seeing (most of their stuff hits YouTube first) was their Star Wars song.  It was fantastic.  I have it on my iTunes, but the video is so much better than just the audio.  To prove it, let me share it with you here:
They have had other videos with a geeky twist to them.  For example they do a great version of the Mission Impossible theme:

And my personal favorite of theirs, The Lord of the Rings-The Hobbit medley:
Just recently, the news broke that different versions of the Batmobile were here in Salt Lake City to film a new music video.  I never heard what video it was, or why someone was filming a music video here, but it was fortunate that they were here on the same weekend as Salt Lake Comic Con, which meant they made an appearance at the convention.  Today, someone posted the newest Piano Guys video on Facebook, and all of a sudden it made sense.  They were shooting the video with the cars because they were covering the Batman music from the last 50 years.  Yet another geeky music video, released just today:
I think it is pretty safe to say that these guys are just a little bit geeky.  You can tell from the music that they have done that is geek-centric, that they love this stuff.  I think they might be fans themselves.  One of the great things about soundtrack music  is how quickly it brings back the emotions you felt during the movie or show.  These guys seem to enjoy what they do, and they pass that love on to their fans in the music videos they produce.  I love it.  Plus they're local, here to Utah, and I love to local folks succeed and contribute something to geek culture at large, and I think these guys do.  Now, if they ever read this, I just have one suggestion, how about a little Doctor Who?  That would be pretty sweet.
If you like the music you have heard here, you can pick it up through iTunes and Amazon, or you can buy the CD (if people still do that) at thepianoguys.com.  They're worth checking out.